I guess I'm supposed to provide the requisite explanation for my absence over the last many months? Here goes.... I took up a gig as a Host of two shows at CBC Radio 3, a station which explores indie music, I moved apartments, and well, accidentally overhauled most aspects of my life. If Voltaire had a whirlpool instead of a garden, I think my twenty-something mind would have a better grasp of what he meant. My life has been like a whirlpool spitting out whatever pieces of inspiration that are not being cultivated at the centre. Spit, cultivate, spit, cultivate, hit repeat. I have realized that some of the biggest (and best) changes have to be brought
onto
you, they have to happen to you rather than you seeking them out. How's that for a vague disclaimer?
Sightings
:
Last week I was in New York again and in an art gallery I approached a bespoke woman speaking French whom I believe was Julliette Binoche. I told her she was beautiful. She asked if I could be paid to say that to her every day. I asked,
how much
? Vanity is so expensive. Someone asked to take my photo for a Swedish style magazine the other day and I must admit, I almost had the same reaction as my Madame Binoche.
Last month I went to Paris with friends and I smiled at a frazzled Stella McCartney in the 9th arrondisement. She looked at me like she had just finished telling a joke and trying to conceal a giggle.
Off to NY again for a fun fashion research trip. But not until I share something that Oxfam in the UK is doing which I think is ace!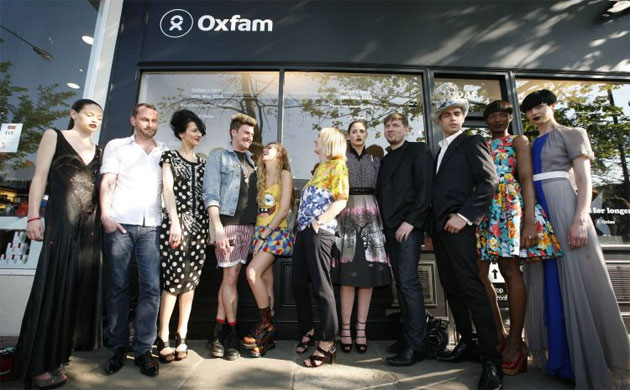 (Image: Guardian. Models showing off designer pieces sold at Oxfam, and that's designer, Henry Holland, in shorts!)
Oxfam, a charity shop that has long been selling affordable second-hand clothes to raise money for international development aid is joining forces with young designers from the London College of Fashion. The students will be reworking clothes donated to the charity's new 'boutique' opening in the posh shopping quarter in Westbourne Grove, London.
It's no secret that I love my secondhand shopping. I've visited several Oxfam stores in the UK and I've always thought that they could use a face lift. There is no need for "used" clothing to carry the stigma of tattered out-of-date fashion, nor is there reason for "vintage" stores to be considered stodgy.
The injection of high fashion elements into the secondhand clothing industry is just one key step in changing public perception around sustainable fashion. And this is all for charity? Sheesh! Couldn't be better.
Link to original story in The Guardian.